Serious problem Guys!
Ok so it has been brought to my attention that a couple people are going around to ever 4 legged dragon who has feathered wings and accusing them of copying me.
let me make this clear
I DO NOT APPROVE OF THIS BEHAVIOR
I know that you are trying to look out for my rights as an artist, but I simply do not own the concept of feathered winged dragons.
And if you feel that something does actually look too close to my species Avians, then NOTE me with a link to the image, politely telling me how you think they are "stealing" then leave the matter to me.
If the image is still up and it looks like I have done nothing, it means that I did not see how the person "copied" me, and thus I saw no reason to confront them about it.
That also means LEAVE THEM ALONE!
DO NOT and I mean by all means, DO NOT go to their pages and tell them how they need to delete their images because you think they are similar.

Do not start a flame war.

That is RUDE and an insult to both me, and the person that you think is stealing.
And if you are someone who is going around and accusing people of stealing threatening them of banning and stuff like that, all that you are doing is making yourself look like someone who is either obsessed or stupid.
If you are doing this to try to become my "friend" No, just NO! I already have to put up with a lot of shit, and I really don't want to be friends with someone who is stirring up more shit.
(you know who you are, and I know who you are)
Also I would like to apologize to those people who have been accused of "theft" lately, either by a favorite category, or a rude comment.
I feel it is unfair for you to have to suffer for the over-reactions of some people.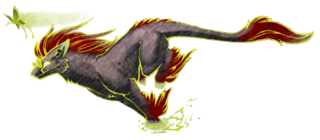 •DON'T USE MY CHARACTERS, CREATURES OR IMAGES FOR YOUR OWN RP/STORY/COMIC
•DON'T ASK ME FOR REQUESTS
•NO CHAIN LETTERS
•BE POLITE