LOL I know what you are all thinking by that title, but I am not talking about the strategically placed stickers women wear when they want to wear nothing, but also show nothing... XD
I am talking about the DA pasties, the little code that DA provided so that we could post thumbnails of like our recent favourites, or submissions.
I wish to know, since I would greatly like to update my page some more, and have a feed for my favourites. But I can't unless I can figure this out due to the fact that when you add a BG onto a widget, it covers what was on it before.
Thus is why I have been fighting with the featured deviation window as well T_T
Thanks in Advanced!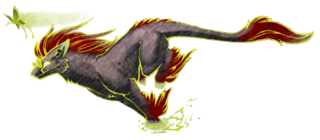 •DON'T USE MY CHARACTERS, CREATURES OR IMAGES FOR YOUR OWN RP/STORY/COMIC
•DON'T ASK ME FOR REQUESTS
•NO CHAIN LETTERS
•BE POLITE