3 week break
OMG finals are finally over XD
And that means that I can finally get back to working on my own arts and arts I owe. yes I am sorry that it is all taking soooo extremely long, you know how it is, school +health first.
I am really excited for this whole break because it means I can go home and visit ~
Lunwlf
~
Mother-of-Kitties
and ~
acidplush
The later of the two I'll be going with to my high school's annual x-mas dinner thinger!
It also means I can relax, play videogames!!! OMG it has been a long time since I have played any games... *dies* I totally miss playing Okami and FF12.
Oh and of course ~
Lunwlf
will be helping me with XM, which has been on hiatus for longer then I have played any videogames. And yes I am slow at it, that is only because I keep working everything I can think of, and making sure I am completely happy wit everything there is to be about it. =
Shinerai
says that I think too much into it. and I think so too, but I can't help it, it is definitely a labour of love!
Oh yeah the best thing about going home! FOOOOOOODDDDDDD!!!!!
It has been tough going without proper cooked food, like stuff you actually need a stove for. XD I have been living off of frozen dinner things. I refuse to resort to pizza and macaroni and cheese.
Doodles
Ok so I thought it might be kool to post a doodle or two that I did today, since no one will see them anyways. XD
I am soo picky when it comes to posting stuff.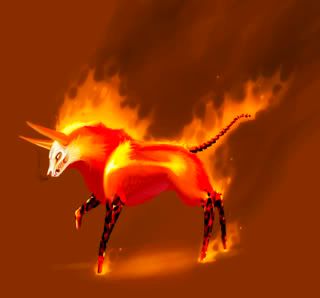 Finally I show you another of the beasts from XM... its a cinderhound, or cinders for short... When I do a good image of them, I'll write up about them...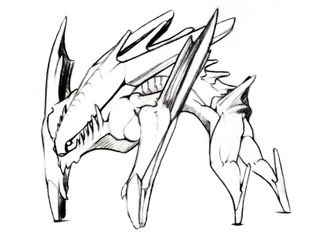 A random creature that I am sure looks like something from like 20 different games XD Tho mentally I know I was inspired by =
Shinerai
trust me, those are chin spikes not teeth.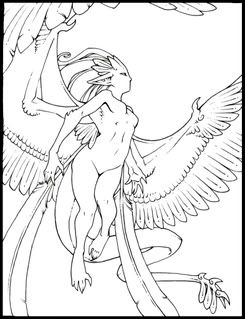 Ok This isn't a doodle from today, but I did ink it today XD
She is a halfblood avian.... I need to choose a colour pattern for her, so suggestions would be kool.
I am thinking I should either start putting my sketches togehter and spamming my scraps with them, or to keep posting journals with them...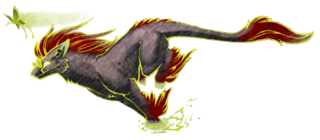 DO NOT USE MY CHARACTERS, CREATURES OR IMAGES FOR YOUR OWN RP/STORY/COMIC