Absence
Yes it is true that I have been avoiding DA, mostly because I haven't the will to draw the sparkle dragons most everyone expects with a violent need from me, and to which there seems to be an endless line of just completely rude people with a superiority complex who want to tell you that you are wrong and try to spend every word that comes out of their mouths to belittle you just to make themselves feel better.
I don't sugar coat my responces to save your feelings if you don't consider mine.
I'll likely not ever really leave this site, but I doubt that I will be as active as I used to be.
I want to point out that some people are assuming that because I am absent from DA that I am so butthurt that I will stop drawing because of the attitude problem DA has. This is completely untrue. Drawing is my passion, and the attitudes just makes me not want to be a part of this site!
On a better note
One of my friends is really tight on money and she needs to get commissions to cover her family!



So please go help her out!
I have also been thinking of maybe doing some form of kiriban like thing for the 1 mil pv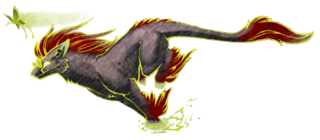 •DON'T USE MY CHARACTERS, CREATURES OR IMAGES FOR YOUR OWN RP/STORY/COMIC
•DON'T ASK ME FOR REQUESTS
•NO CHAIN LETTERS
•BE POLITE