MSN Issues
I am on the verge of grabbing this computer and putting it in the middle of the highway to watch it SHATTER into a Billion pieces and laugh at it for being an inferior comp to one that preceded it 10 years ago!!!!
I purposely got the new comp because my old one was OLD, reaching the 10 year mark, and it was being bitchy or so I thought. This new comp is now making the old one seem like a SAINT!
•I have been going through ALL that I know about comps and seeing if I can find anything that can fix things, heck I even had a comp savvy friend come over to look it over and he has no clue.
My problems with this comp are deep, for one it won't do 3D, so games are out, even tho I got it to be "powerful" enough to play games. Instead I get BSoD (blue screen of death)and a forced restart. Which was OK, because then I'd only have to go and not try to play games.
I already know it has something to do with Directx and I already have DLed the updates, new drivers and all. So it really is a random thing wrong.
(I'm really not gonna try to dig deep into this problem anymore, because I really don't have the energy. THAT and it semi-fixed it's self oO)
•
The BIG NEW Issue
I have with this pile of crap is that it doesn't like webcams. I was chatting all nice like the way I like to, and well my friends had pestered me to get a cam, so I did, and I installed it. As soon as it finished installing it, it crashed msn, totally. Which I was like OK, I'll just start msn up again, but it didn't start up. like it shows in my processes window, but not anywhere where I can actually chat. I can't see it at all.
So I try several things to try to get msn back, like un-installing it, un-installing the damn webcam, system restore, windows updates, and un-installing it again... still no luck, and it is REALLY getting to me.
Edit: Ok, so not everyone has to ask, I'm useing XP, NOT VISTA, I refuse to touch vista
So yeah help would be GREATLY appreciated! Heck if you happen to be able to help me get msn AND the webcam working, then I'd totally draw you something!
On a lighter note
Two nights back I saw Charlie, and he was OK!
His belly felt full, his furr wasn't matted, and he was friendly as usual. the only thing new was a small scar on the top of his head, prolly from fighting with another stray. But at least I know that he most likely has a family who cares for him and feeds him, and I guess why I didn't see him for a while was because maybe his owners were concerned about the cut on his head.
That makes me happy because now I know that all of the strays that hang around are ok.
Also I went down about a week or so ago to the big art store and bought me some of that "official" comic paper. (you know the ones with the blue guidelines and all)
Now it was nice and all, heck it even gave me ideas, but I dun think I'll use it for XM, specially since it has watercolour paper texture, and I have to have my papers 100% smooth XD (yesh I am picky I know.)
But I don't plan to let the paper go to waste, instead I'll prolly illustrate a short story onto it, and make it all pretty. XD
I do have a few small ones I could really go and try, it is a tie between two of them tho. so I guess it all depends on which one will fit on just those papers, or maybe I should get another package and do both.
I dunno I'll see how it turns out first I guess ^^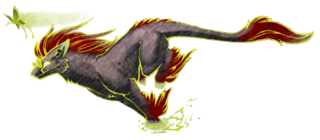 •DON'T USE MY CHARACTERS, CREATURES OR IMAGES FOR YOUR OWN RP/STORY/COMIC
•DON'T ASK ME FOR REQUESTS
•NO CHAIN LETTERS
•BE POLITE