Question
Ok So I have a question for you guys. ^^
I am planning on going to a bunch of cons this spirng/summer with `
sambees
I learnt the hard way from anime north last year that avians and original arts don't sell to well, Fanarts sell really well, if at least just to get people to your table to see the original arts.
I really want/need to do this so that I can pay off my tuition sooner. (yes I know that I am still in college)
My Question to you is what anime/games do you think (within my style) I could do?

My ideas so far
-FF12 fran and balthier (started)
-Redo my surfing chocobo pic from like forever ago.(started)
-anything from Legend of dragoon
-Caim and angelus from drakengard
-Shadowhearts
-FF monsters ie, moogle/moomba/suggest something?
-Some of my fav FF ladies
(I still won't draw KH or Naruto, so please dun suggest those)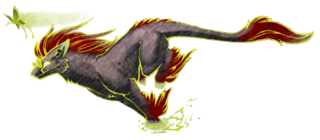 DO NOT USE MY CHARACTERS, CREATURES OR IMAGES FOR YOUR OWN RP/STORY/COMIC