Thursday
Early Thursday morning I knew I would be having a really busy weekend and thus couldn't sleep well because I was excited. XD
I woke up early and got everything I would need for the day all set up and then went to school, where I had arranged to meet ~
DemonicSerpent101
Which was awesome, it is always nice to meet people in real life. So we hung in one of my classes and I was totally unproductive, but when am I not? She gave me the original of
I love Okami and Oki (has to do some fanart sometime) and I totally wish I had something I could have given her back, someday I'll have to figure out something. ^^
After lunch she had to go home, and ~
Lunwlf
came up to visit for the weekend... he was totally shy as always. <3
Friday
Ok so I wake up early (way before the time I wanted to wake up) with a stomach ache that totally didn't want to go away. But I got ready anyhow... and thus me and ~
Lunwlf
went on the school trip to the Zoo, I totally didn't do any sketches, well I did do one of a tiger cub that was eating, I was more preoccupied with trying to stay with my group, but eventually I got sepperated, and decided to just go around and look at the different animals. (I didn't do this last year and thus missed a bunch of animals)
So I got lots of pretty photos, sadly some animals like the wolf, my camera liked the fence more then the animals... (they really had a bad bad set up for the wolves), But anyhow they had a mix up with the times they told us so me and ~
Lunwlf
missed the last buss back to campus, so we got the experience of trying to navigate all of the way across Toronto... it actually wasn't hard at all, kinda fun, tho it ate a hole in my pocket.
Once I got back to my room I fell straight asleep... and only woke up in time to get a Table at anime north, which is awesome. then promptly fell back asleep.
(If I had any skill with a camera whatsoever I'd show you some of the photos I took, but after looking at them, they are almost all really blurry)
Saturday
Saturday consisted of me mostly laying there as ~
Lunwlf
commandeered my comp to play dungeon siege 2 all day. I woke up from time to time to watch, then went back to sleep trying to kill the last bit of the stomach ache.
Today
Today I woke up relatively pain free, and watched ~
Lunwlf
play a bit more dungeon siege 2. We then got ready for him to go home, and well he is gone now and I am alone once more. T_T Now the pain is back and I am going to try to do some more homework and hopefully work on comissions. ^^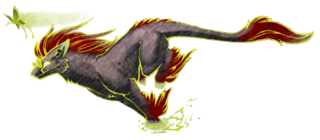 DO NOT USE MY CHARACTERS, CREATURES OR IMAGES FOR YOUR OWN RP/STORY/COMIC